New Orleans - A weakened Hurricane Gustav slammed into the heart of Louisiana's fishing and oil industry Monday, avoiding a direct hit on flood-prone New Orleans and boosting hope that the city would avoid catastrophic flooding.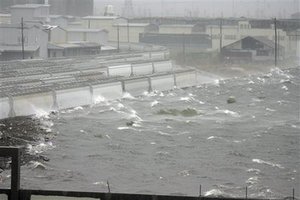 ©AP Photo/Bill Haber
Water is pushed over the flood wall into the upper 9th Ward from the effect of Hurricane Gustav, in New Orleans, Monday, Sept. 1, 2008.
Wind-driven water was sloshing over the top of the Industrial Canal's floodwall, but city officials and the Army Corps of Engineers said they expected the levees, still only partially rebuilt after Hurricane Katrina, would hold. The canal broke during hurricanes Betsy and Katrina, flooding St. Bernard Parish and the Lower 9th Ward.
"We are seeing some overtopping waves," said Col. Jeff Bedey, commander of the Army Corps of Engineers' hurricane protection office. "We are cautiously optimistic and confident that we won't see catastrophic wall failure."
Of more immediate concern to authorities was a barge that broke loose from its moorings and crashed into two anchors scrapped ships. The was no damage to the canal.
The National Hurricane Center in Miami said Gustav hit around 10:30 a.m. EDT Monday near the Cocodrie, a low-lying community in Louisiana's Cajun country about 72 miles southwest of New Orleans. Forecasters once feared a storm that chased nearly 2 million from the coast would arrive as a devastating Category 4 with much more powerful winds.
While New Orleans avoided a direct hit, the storm could be devastating where it did strike. For most of the past half century, the bayou communities that thrived in the Barataria basin have watched their land literally disappear. A combination of factors - oil drilling, hurricanes, river levees, damming of rivers - have destroyed marshes and swamps that once flourished in this river delta.