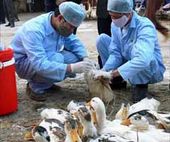 Hong Kong: A dead goose and two dead ducks found on a Hong Kong island last week have tested positive for the deadly H5N1 strain of bird flu, officials said on Wednesday.
The birds were found on January 29 and 31 on a beach on Lantau island and preliminary tests showed they had tested positive for H5 avian influenza.
Further tests confirmed it was the H5N1 strain of the virus, a spokesman for the Agriculture, Fisheries and Conservation Department said in a statement.
Two more dead chickens were collected on the island on Wednesday, the spokesman said, adding that preliminary tests for the H5 virus were being arranged.
Earlier, officials said a total of 17 dead birds had washed up on beaches on the mostly rural island in recent days.
H5N1 was found in a chicken at a Hong Kong poultry farm in December, prompting the slaughter of more than 90,000 chickens.
Hong Kong was the scene of the world's first reported major H5N1 bird flu outbreak among humans in 1997, when six people died. The deadly virus has killed about 250 people worldwide since late 2003.