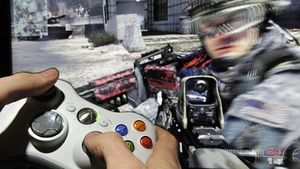 The computer gaming industry uses a powerful psychological device that could make some fans play compulsively, a Panorama investigation has found.
In the BBC show, entitled
Addicted To Games
and being aired on Monday night, investigators speak to children who believe they are addicted and hear from industry experts calling for more research into the issue.
Games designer Adrian Hon, chief creative officer of SixToStart, said producers use a simple technique based on a 1950s study of rats feeding themselves by pressing a lever.
The "variable ratio of reinforcement" (or operant conditioning) basically sees people acting a certain way because they are rewarded for that behaviour
.