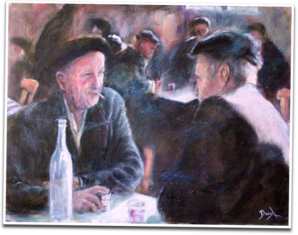 ©Unknown
During a recent visit to Montreal, I was struck by the many changes. I spent the greater part of my life in Montreal, but had not visited in several years. It is normal to find that a place you once lived has changed. Nothing stands still, however, the changes I am referring to go much deeper than the usual new buildings or housing developments.
The social fabric of a community is made up of many elements: knowing your neighbours, or at least recognizing faces on the street; communication with local merchants; places where people get together to meet and talk over a coffee or a drink; population density and the ease of circulating on foot or by bike, via public transportation, or by car. Neighbourhoods with small businesses run by people who live in the area have a different feel from ones that are rife with franchises.
Roaming through my old neighbourhood, the old haunts had disappeared. The local cafe, run by people from the neighbourhood and offering a spot to go and spend an afternoon or evening reading or talking over a coffee and a cigarette, populated with students, professors, artists, writers, and musicians, had gone, replaced by yet another chain offering a prepackaged and franchised atmosphere that could be found anywhere on the planet. The former rows of books, everything from novels, poetry, and drama to philosophy and social science, sitting on battered shelves for people to pick up and browse over a coffee had been replaced by, well, nothing. Emptiness. Mirrors reflecting back the image of the consumer to himself.