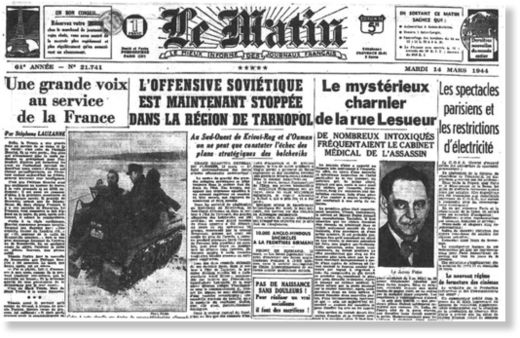 Three months before D‑Day, in 1944, some Parisians in the chic 16th Arrondissement started complaining about thick smoke with an acrid smell emanating from the stately town house at 21 rue Le Sueur. Worried about a chimney fire, one neighbor finally called the authorities. They discovered that the mansion's basement was festooned with human bones, its coal stove burning body parts. A smaller outbuilding housed a mysterious, virtually soundproof triangular room. The former stable hid a pit about 10 feet deep filled with quicklime and rotting flesh.
Thus was uncovered one of history's most macabre bouts of serial killing. The official victim count was 27; other estimates ranged sharply upward.
The investigation soon centered on the building's owner, Marcel Petiot, a quick-witted, charming doctor with a checkered past. Petiot finagled state reimbursement for unorthodox treatments, often double-­dipping by charging patients too, and was implicated in narcotics dealing.
He also claimed to be part of a Resistance organization helping people, especially Jews, escape Nazi Europe, for a sizable fee.