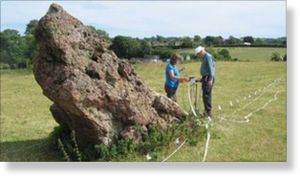 Evidence of a second entrance and a farmstead have been discovered beneath a complex of stone circles in Somerset.
The discovery has been made as part of an underground archaeological survey of the Stanton Drew stone circles.
The complex is the second biggest in Europe and dates back to the late Neolithic and early Bronze Age.
An earlier study in 2009 concluded the site was 1,000 years older than previously thought after an underground burial chamber was found.
'Sacred objects'
The studies, which took place in 2009 and 2010, were made by Bath and North East Somerset Council and Bath and Camerton Archaeological Society (BACAS) in a joint project.