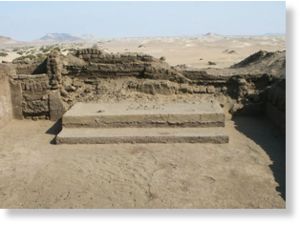 Yes, it's yielded human remains - including five females who may have been ritually sacrificed. But it's the signs of life that make a half-excavated Peruvian pyramid of the Moche culture stand out, archaeologists say.
"Often these pyramidal mounds were built as mortuaries more than anything else," said excavation co-leader Edward Swenson.
"In most instances [a pyramid] is not where people live, it is not where they were cooking their food," the University of Toronto archaeologist added.
But the newly exposed 1,400-year-old flat-topped pyramid supported residences for up to a couple dozen elites, who oversaw and perhaps took part in copper production at the site, evidence suggests.
The pre-Inca pyramid dwellers likely presided over important rituals, feasted on roasted llama and guinea pig, and drank corn beer, according to archaeologists working at the site.
Among the signs of occupation are at least 19 adobe stands where large vessels of water and corn beer were stored, as well as scattered llama, dog, guinea pig, and fish bones and traces of coca leaves and red peppers.
"There's a far more robust domestic occupation than what we would have expected," said expedition co-leader John Warner, an archaeologist with the University of Kentucky.