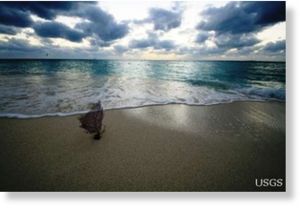 Oceanographer Robert Ballard, best known for discovering the
Titanic
wreck, has new plans to plumb the depths of the seas.
Ballard said Thursday that his latest deep-sea venture will send crews combing through the Black, Aegean and Mediterranean seas for artifacts from ship wrecks and ancient civilizations.
His research vessel, the E/V
Nautilus
, set out from a port in Turkey last week on a four-month mission that will use four remote-operated vehicles and sonar technology to explore lost cities, as well as hydrothermal vents and undersea volcanoes.
At a news conference at Mystic Aquarium in Connecticut, Ballard said that while he has a general idea of what his crew might find, the exploration is about looking for the unknown.
"We're fascinated by extremely confusing parts of our planet and we say 'let's go there and see if we can figure it out," said Ballard, a co-leader of the mission who is planning to join the ship later.