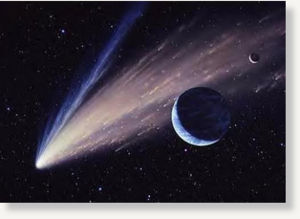 The mighty snake firmly resolved to harm the men.
[from the
Walam Olum
]
Although we cannot yet say specifically how our ancestors were affected by the
interaction
of Earth with a large, short period, comet over the past 12,000 or more years, there are certain aspects that can be discerned by combining elements of what we have discovered about our past. One thing that most of us are familiar with is a tradition that claims humanity once lived in a world of abundance and did not have to work very hard to live well. In most cultures that retain a notion of this land of happy and easy living the good times are brought to an end by the activities of some
powerful serpent-like
creature. Such a tradition of prior abundance is really not at odds with what we presently know of
Pleistocene conditions
and we have recently discovered through ice core and other time defining studies that this era of rich flora and fauna
ended quite abruptly
around 11,000 years ago.
If we assume that a large comet had something to do with this rapid change then we have a pretty clear picture of why our ancestors' stories invoke an image of a serpent-like creature destroying this pleasant time.
What is interesting about this conjecture is the fact that we will be able to establish whether interaction with comet debris caused this deterioration of conditions and, if indeed this was the reason, then the basis for some of the tales that have come down to us becomes much more understandable.
It seems very likely now that much of the
lore dealing
with gods of the sky are
metaphorical descriptions
of the
history of this comet
as it literally fell into pieces from being exposed to both the heat of the sun and the many gravitational forces tugging on it along its less than four year Earth-crossing orbit. Thus, seemingly nonsensical
statements
such as Athena being born fully formed from
the head of Zeus
can be seen as lore that interprets the splitting of a comet as the birth of a new god.