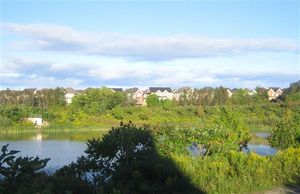 A Canadian archeologist who excavated the remains of a 500-year-old First Nations settlement near Toronto has revealed a stunning discovery: a carefully buried, European-made metal object that somehow reached the 16th-century Huron village nearly 100 years before the documented arrival of any white man in the Lake Ontario region.
The unearthing of what appears to be part of a wrought-iron axe head at the so-called "Mantle" archeological site in present-day Whitchurch-Stouffville, Ont. - a fast-growing suburb about 40 kilometres east of Toronto - is showcased in a new documentary film, titled Curse of the Axe, to be screened for the first time Monday at the Royal Ontario Museum and broadcast nationwide July 9 on History Television.
The documentary details the quest by Toronto-based archeologist Ron Williamson and his colleagues to identify the composition and origin of the metal artifact and determine how it might have wound up so far inland - at least 1,500 kilometres west of any 16th-century European whaling or fishing station on the Atlantic coast - at such an early time in Canadian history.
The Mantle site is described by Williamson as "the most complex village ever in northeastern North America." Researchers have recovered tens of thousands of artifacts indicating it was a sprawling settlement with dozens of longhouses and a fort-like palisade, all surrounded by cornfields used to feed as many as 2,000 Huron inhabitants for several decades beginning around 1500 A.D.