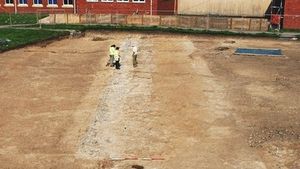 Excavation work on the site of a Roman fort near a school has revealed what archaeologists believe are structures never previously seen in the UK.
The dig in the playing fields of Dwr-y-Felin Comprehensive Upper School in Neath has uncovered sections of the defences of the 1st Century building.
These include a defence tower partially set outside its ramparts allowing soldiers to shoot at gate attackers.
A fort was in occupation on the site until at least the 3rd Century.
Richard Lewis, head of projects at the Glamorgan/Gwent Archaeological Trust, said: "It's certainly of high importance in Wales and the UK because nobody has been able to expose as large an area as we have".