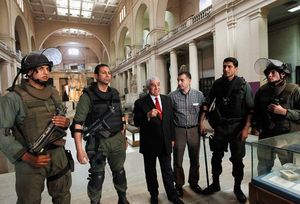 Translation from Arabic of the YouTube interview with an Egyptian Manager of Antiquity Locations: Nour el din Abdel Samad
First I would like to start by saying he is an employee of the Ministry of Antiquities
[This is my first translation I hope I have done it justice. -- Anonymous Translator]
Note:
What follows is a rough translation of the video interview published by the Arabic site:
www.alwafd.org
.
(Some spelling errors have been corrected however for the most part the translation from Arabic to English has not been professionally proof read).
Click
Here
to view the original YouTube video interview in Arabic.