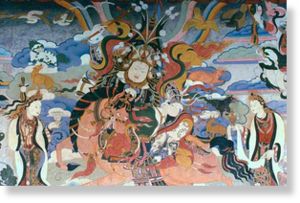 When giant, human-shaped footprints were found stamped in rock at a construction site in Tibet in 1999, local residents celebrated what they believed to be the discovery of ancient traces left by the legendary figure King Gesar, the hero of an epic poem at the heart of Tibetan history. But two leading Canadian paleontologists have published a study revealing the more earthly origins of the metre-long prints - an enormous dinosaur that made tracks along a Tibetan mudflat about 150 million years ago.
The finding, due to appear in the next issue of the
Geological Bulletin of China
, represents the first documented dinosaur trackway in Tibet. But it isn't likely to deter locals from leaving respectful offerings to King Gesar at the site of the fossilized footfalls, says the University of Alberta scientist who led the study.
Lida Xing, who co-authored the footprint study with his U of A colleague and famed fossil hunter Philip Currie, said the research site in Tibet was frequently shrouded with gifts left by local residents as a tribute to the mythic king.