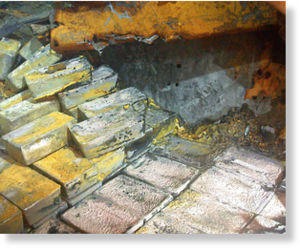 Deep-sea explorers have pulled up 48 tons of silver treasure from three miles below the surface of the North Atlantic in what may be the deepest, largest precious metal recovery in history.
The haul was retrieved from the S.S.
Gairsoppa
, a 412-foot steel-hulled British cargo ship that sank in February 1941.
The expedition, by Odyssey Marine Exploration, a company specializing in shipwreck exploration, recovered 1,203 bars of silver, totaling 1.4 million ounces. Viewers will have the chance to follow the pursuit of the lost treasure on an upcoming Discovery Channel special produced by JWM Productions.
The cache has been transported to a secure facility in the United Kingdom, which contracted the project under the Department of Transport. Under the contract, Odyssey will retain 80 percent of the net value of recovered goods, after expenses, according to a press release.