Sword at his side, the so-called Young Warrior (left) is among the thousand-year-old discoveries in a newfound cemetery in Poland, a new study says.
The burial ground holds not only a hoard of precious objects but also hints of human sacrifice - and several dozen graves of a mysterious people with links to both the Vikings and the rulers of the founding states of eastern Europe.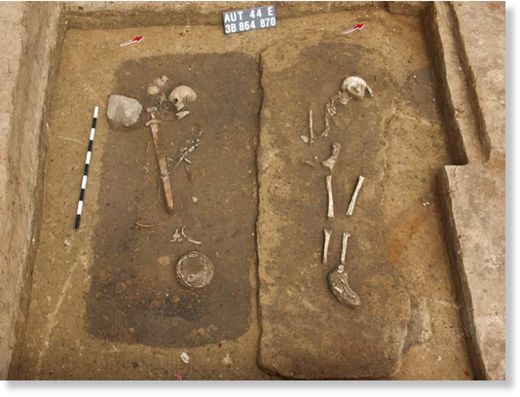 Researchers are especially intrigued by the Young Warrior, who died a violent death in his 20s. The man's jaw is fractured, his skull laced with cut marks. The sword provides further evidence of a martial life.
Objects in the warrior's grave suggest he had ties to one of the region's earliest Slavic monarchs, said the project leader Andrzej Buko, head of the Institute of Archaeology and Ethnology at the Polish Academy of Sciences.
But the north-south orientation of the man's body is a Scandinavian custom. Slavic graves were oriented east-west, Buko says.