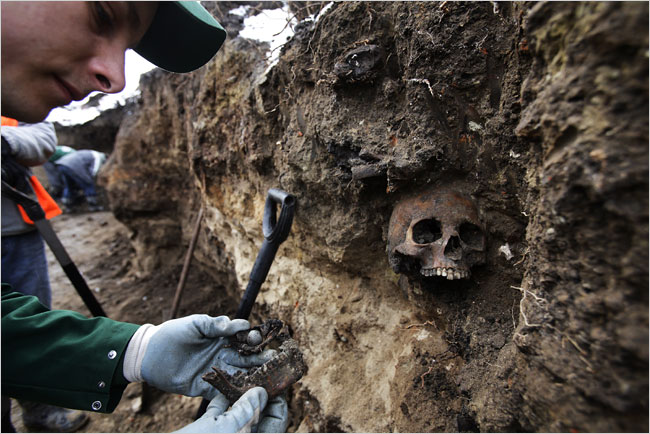 The damp mud falls away easily from the long thighbone jutting out of the dirt wall of the trench at the gentle prod of the shovel's tip. Beyond the mass grave filled with the skeletal remains of some 2,000 people, presumed to be Germans who died in the closing months of World War II, stands the red-brick fortress of the Teutonic Knights that was once one of Germany's greatest landmarks until it was forced to cede the territory to Poland after the war.
Until then, Malbork was the German town of Marienburg, and the authorities believe the dead men, women and children buried together here were inhabitants of the city, along with refugees from places farther east, such as Königsberg, now Kaliningrad, fleeing the devastating Soviet counterattack that would eventually capture Berlin. Several dozen of the skulls have bullet holes, which prompted speculation of a massacre when the first bodies were found last October, whereas now the talk centers on cold, hunger and most of all typhus, which was rampant at the time.
Europe has more than its share of mass graves, a reflection of the extraordinary scale of violence of the previous century. But throughout the Continent the public is far more used to Germans as perpetrators rather than victims, and perhaps nowhere is that more true than in Germany itself.