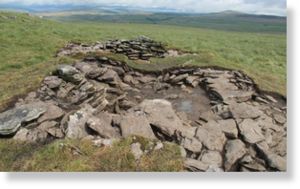 Volunteers' find in national park adds to discoveries pointing to richer cultural history of northern England than assumed
Humanity's long attachment to Yorkshire has notched up another piece of early evidence with the discovery of the first 7th-century house to be recorded in the Dales national park. Volunteer archaeologists dug down into an outcrop of stones on the flanks of Ingleborough fell, one of the Three Peaks famous for walks and marathon runs, where settlements were thought to exist but none had been excavated owing to shortages of time, expertise and funds.
The team revealed two chamber rooms with charcoal remains and pieces of chert, a hard flint knapped in ancient times to make tools. Carbon-dating of the charcoal has placed the use of the building at between AD660 and AD780, when Anglo-Saxon kingdoms were consolidating in northern England. The dig adds to a growing list of discoveries, from a Roman amphitheatre at Aldborough to exquisitely carved golden rings near Leeds, which are changing the history of the north of England.
In each case, archaeologists have suggested that the relative poverty of previous finds in the region, compared with southern counties, has had more to do with where the profession previously looked rather than what may be there.