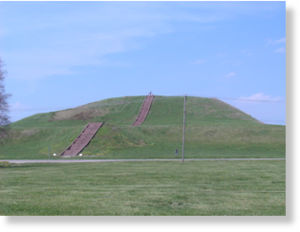 Archaeologists who have uncovered the remains of a prehistoric city beneath what is now East St. Louis are trying to unravel why that ancient city was abandoned while another one just to the east managed to survive two more centuries.
Archaeologists believe Native Americans abandoned the city of roughly 3,000 or more people around the year 1200, some 200 years before a bigger settlement at nearby Cahokia Mounds ended inexplicably.
The
St. Louis Post-Dispatc
h reported Tuesday that the East St. Louis settlement appeared to have been ravaged by fire in the late 1100s, although the cause of that blaze isn't clear. Joe Galloy, coordinator at the Illinois State Archaeological Survey's American Bottom Field Station in Wood River, said an attack from outside, rioting or a ritual burning are among theories for the fire's origin, though archaeologists hope to pinpoint during the dig.
Archaeologists have been working the site since 2008, in advance of construction of an Interstate 70 bridge across the Mississippi River.
Galloy called the archaeological dig near the site of the old St. Louis National Stockyards "an unprecedented look at a Mississippian city" and perhaps the most significant archaeology of any kind under way in the country. About 50 people are working full-time on the effort.