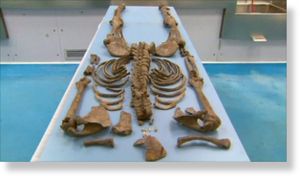 The headless remains of Australian outlaw Ned Kelly have been identified, 130 years after he was hanged for murder, officials have said.
His body was dumped into a mass grave, later transferred to another mass grave and again exhumed in 2009.
Although his skull is still missing the body was identified by comparing a DNA sample with that of a relative.
Ned Kelly was seen by many as a cold-blooded killer and others as a folk hero of Irish-Australian resistance.
The bushranger killed three policemen before being captured in Victoria state in 1880 and was hanged for murder at Old Melbourne Jail in November of the same year.