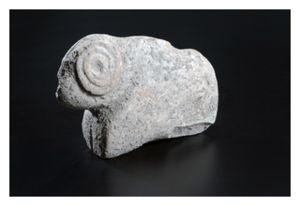 The Israeli Antiquities Authority (IAA) said archaeologists have uncovered two 9,500-year-old animal figurines in excavations just outside of Jerusalem.
Found at the Tel Moza site, one of the Neolithic figures is a limestone ram with precisely carved spiral horns. The other is a more abstract sculpture of a wild bovine fashioned from dolomite, according to the IAA. Both are about 6 inches (15 centimeters) long.
The figurines were found near the remains of an ancient, round building, dating back to a dynamic time in the region's history when humans were transitioning from a hunter-gatherer lifestyle to one of farming and settling in villages.
The animal figurines then may have been associated with the process of animal domestication, an IAA statement said, though one excavator at the site, Hamoudi Khalaily, believes they may have been "good-luck statues" to ensure hunting success.
Excavations at Tel Moza are taking place ahead of the expansion of Highway 1, the main road connecting Jerusalem and Tel Aviv.