Today Google celebrates the 115th birthday of aviatrix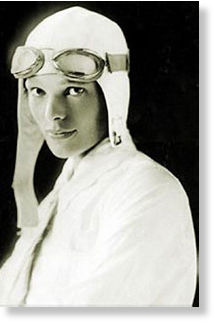 Amelia Earhart -- and one of the great unsolved 20th-century mysteries.
Sorry, Amelia, no birthday present this year. But it's not been for a lack of trying.
Throughout the years there have been a number of search attempts to find Earhart or wreckage of her plane. Now 75 years after she vanished in her Lockheed Model 10 Electra over the Pacific Ocean, the most recent hope of finding evidence of Earhart's plane is fading.
Discovery News reported last week that a $2.2 million expedition by The International Group for Historic Aircraft Recovery (TIGHAR) came to an end due to the challenges of exploring a steep, underwater coral cliff.
You remember, a couple of months ago, Secretary of State Hillary Clinton held a press conference, and gave an boost to the credibility to the TIGHAR hunt for Earhart's plane.
TIGHAR researchers believed that when Earhart and her navigator Fred Noonan went missing July 2, 1937, they made an emergency landing on a reef near the uninhabited island Nikumaroro.