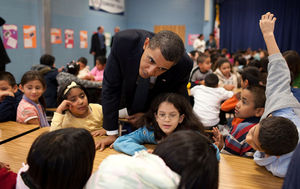 President Barack Obama announced Friday he is changing most of former President George W. Bush's "No Child Left Behind" law. NCLB moved education from district and state control to the federal level. NCLB was written to increase proficiency in math and reading. Few would argue that those are worthy goals. However, the application of NCLB had many unforeseen and negative consequences.
NCLB links funding to measures over which teachers have little control
No Child Left Behind was designed to bring poorer schools up to par with better-performing school districts. To level the educational playing field, the NCLB act created a series of high-stakes proficiency tests. In high-stakes testing, schools are awarded funding based on student proficiency. Educators can teach content, but they can't make students learn. It's like paying a dentist based on how well his patients brush their teeth.
High stakes tests are limited measures of achievement
Students demonstrate progress in tangible and intangible ways. Testing only measures ability to choose a correct answer in artificial circumstances. Tests can be subjective, biased and confusing. Tests say nothing about how students apply knowledge. Some students struggle with traditional testing. Test grades give a one-dimensional, distorted view of student achievement.