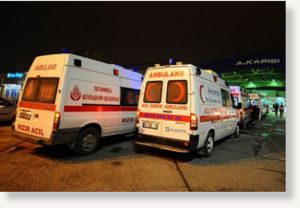 At least 27 people have been injured after an armed man opened fire on a group of people at an election meeting in Turkey's southern city of Samandag.
A parliamentary candidate from the main opposition Republican People's Party was injured during the shooting incident which took place on Thursday at an election meeting ahead of the parliamentary elections set for June, Anatolia news agency reported.
Reports say at least two of the victims are in critical conditions and Turkish security forces are searching for the gunman who managed to flee the scene.
The shooter, who has been identified as a convicted criminal, reportedly used a pump-action hunting rifle in the incident.
Meanwhile, Refik Eryilmaz, the parliamentary deputy from the opposition Republican People's Party, or CHP, who was injured in the incident condemned the attack, and said it was fortunate that there were no fatalities.