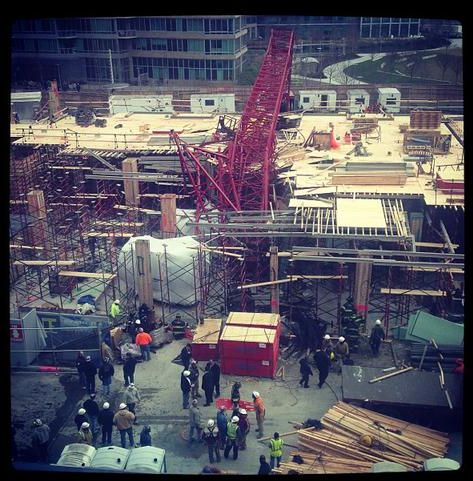 A 300-foot crane crashed onto a building under construction in Long Island City, Queens, around 2:30 p.m. Wednesday afternoon, while lifting a load, the authorities said.
There were seven people injured, three of them seriously, according to fire officials. None of the injuries was life-threatening, they said. There was no immediate explanation for why the crane collapsed. The mangled red crane could be seen stretching hundreds of feet, having smashed into plywood and concrete on the site.
35 story crane just collapsed outside my window in Long Island City! The sound was horrific!!! http://t.co/0yENgsF1

- UnSweetTee (@UnSweetTee) 9 Jan 13
The building under construction where the crane fell is 46-10 Vernon Boulevard, just behind the famous Pepsi-Cola sign on the East River.