Riot police and basiji militia use teargas on protesters, with reports that one demonstrator was killed in clashes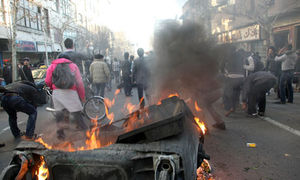 Thousands of defiant protesters in Iran's capital have clashed with security officials as they marched in a banned rally. One person was reported killed, with dozens injured and many more arrested.
Supporters of the Green movement appeared in scattered groups in various locations in central Tehran and other big cities in what was seen as the Iranian opposition's first attempt in more than a year to hold street protests against the government.
The riot police and government-sponsored plainclothes basiji militia used teargas, wielded batons and opened fire to disperse protesters who chanted "death to the dictator", a reference to both Iran's supreme leader, Ali Khamenei, and the president, Mahmoud Ahmadinejad.
Witnesses told the Guardian that despite a heavy security presence, small groups of people succeeded in gathering in main squares leading to Azadi ("freedom") Square - a chosen focal point.
HRANA, a human rights website, reported that one protester was killed and three injured when riot police opened fire at protesters near Tohid Square in Tehran. The website also said that at least 250 protesters have been arrested. Opposition websites also reported significant gatherings in the cities of Shiraz, Isfahan, Rasht, Mashhad and Kermanshah.