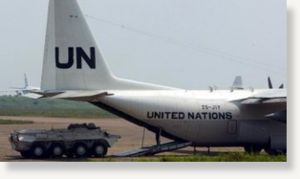 At least 26 people were killed when a United Nations plane crashed on landing in heavy rain at Kinshasa airport Monday, a Congolese aviation offical said. The plane was operated by the UN mission in the Democratic Republic of Congo, Monusco.
A U.N. plane carrying staff members and peacekeepers crashed Monday upon landing at the airport in Congo's capital, breaking into pieces and killing at least 26 people, a top Congolese aviation official said.
The cause of the crash was not immediately known, and six other people were injured in the crash.
"A crisis task force is working at the crash site," U.N. spokesman Martin Nesirky said.