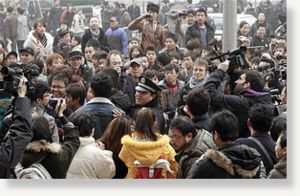 Three Chinese online users have been charged with subversion for re-posting calls for a Jasmine revolution on the internet, a Hong Kong-based civil rights groups has reported.
The arrests are further evidence of Beijing's determination to stamp out any attempt to foment Middle East-style protests in China after a foreign-based website, boxun.com, issued a call for nationwide demonstrations against one-party rule.
The charges have been made under China's draconian "subversion of state power" laws, a catch-all that enables China's ruling Communist Party to jail anyone it deems to be challenging its right to rule.
Liu Xiaobo, the dissident who won this year's Nobel peace prize is currently serving an 11-year sentence after being convicted on subversion charges.
Liang Haiyi, an unemployed 35-year-old woman in the northeast city of Harbin, was taken away Saturday after putting information about the protests on a Chinese chat rooms, according to a lawyer, said the statement by Information Center for Human Rights and Democracy She was questioned and taken away in handcuffs, and her ex-husband has received an official notice saying she has been charged with subversion, added the lawyer, who said he had spoken to the woman's ex-husband.
"I don't think she's broken any law, she only reposted someone else's writings on the Chinese internet and it wasn't her own writing," said Liang Xiaojun said. "Anyone overseas can see these materials." Also detained for spreading word of the planned protest online were Hua Chunhui, from Wuxi city in eastern China, and Chen Wei from Suining city in the southwest, the group said in its statement.