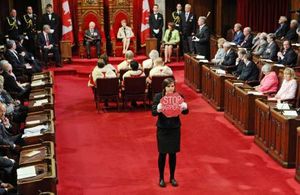 A Senate page disrupted the Speech from the Throne by taking out a sign saying "Stop Harper" in the middle of the opening of the new parliamentary session.
She was immediately removed from the Senate chamber and fired from her job.
Brigette DePape, from Manitoba, has been working in the Senate for a year. A statement issued in her name said she opposes the agenda of the Prime Minister Stephen Harper's government, which won a majority mandate on May 2.
"This country needs a Canadian version of an Arab Spring, a flowering of popular movements that demonstrate that real power to change things lies not with Harper but in the hands of the people, when we act together in our streets, neighbourhoods and workplaces," the statement said.
She went on to give a series of media interviews. She explained she feels the Conservative government's policies on the environment, social programs and the military are destructive, and that civil disobedience is needed to try and stop them.