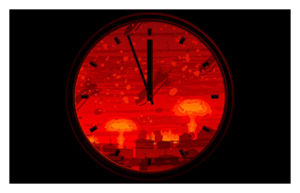 About 20 per cent of people in China believe the Mayan calendar signifies doomsday
If you think the Mayan calendar signifies the end of the world this year, you are not alone.
A new survey conducted by
Ipsos Reid
for Reutersfound nine per cent of Canadians believe the end is near.
"Canadians are less superstitious compared to others, but they're not far behind," said Keren Gottfried, research manager at Ipsos, to
Postmedia News
. Younger people and those in lower income brackets are more likely to believe.
"Perhaps those who are older have lived long enough to not be as concerned with what happens to their future," she said to
Reuters
.
Topping the list was China, with 20 per cent of its population thinking our last day alive will be Dec. 21 of this year. Second, with 13 per cent, was Turkey, Russia, Mexico, South Korea and Japan. In the U.S., 12 per cent of people believe the apocalypse is coming.
Overall around the world, 10 per cent of people think the world will end this year and 14 per cent think it will end in their lifetime.