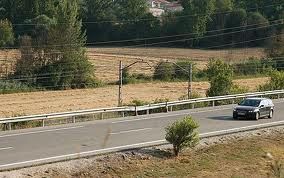 According to the British Embassy in Spain, an increasing number of British holidaymakers are being targeted in highway robberies across the country.
Unsuspecting tourists travelling in hire cars or British registered vehicles are particularly vulnerable on the AP7 stretch of motorway between the French border of La Jonquera and the Alicante region of Southern Spain where so far 140 cases of theft have been reported to local British consulates.
Some might speculate that the rise in motorway crime by well organised gangs has been exacerbated by the perilous state of the Spanish economy but in reality such tricksters have been using the same scams to rob tourists for many years. A popular ruse employed at motorway service stations involves surreptitiously puncturing a tyre and then offering to help the driver while an accomplice steals valuables from the vehicle. Another scam includes making loud bangs when a tourist's car is in transit causing the driver to pull over on to the hard shoulder. A fellow road user quickly pulls up offering assistance while a gang member steals from the victim's car.