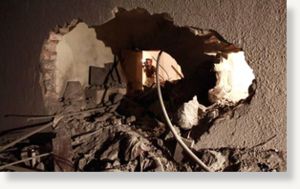 A Nato air strike in Tripoli has killed the youngest son of Libyan leader Muammar Gaddafi, a Libyan government spokesman has said.
Saif al-Arab Gaddafi, 29, was killed along with three of Muammar Gaddafi's grandsons, according to reports.
The Libyan leader was in the building at the time of the strike, but was unharmed. Several of Gaddafi's friends and relatives were wounded.