Society's Child
Paraphrasing the immortal words of George W. Bush: "They hate him for his freedoms."


---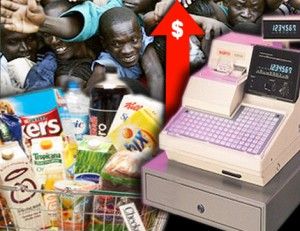 Midwest droughts, growing unrest in the Middle East have prognosticators worried
The worst U.S. drought since 1936 has devastated crops and livestock across the country and opened the floodgates to opportunists hawking genetically modified (GM) seed products. Worse yet, socioeconomic experts now predict that the world may be less than one year away from a catastrophic food crisis that could lead to even more political instability and civil unrest.
Meanwhile, consumers are bracing for a harsh winter as food prices begin their rise to unprecedented levels. Meat and dairy products, which account for 52% of the world's food basket, are expected to become far more expensive over the next several months as farmers around the globe continue to slaughter millions of hogs, dairy cows and steers because they cannot afford the corn and soybean products used to make feed. It has gotten so bad that, in several cases, farmers have even been adding candy to cattle feed because of rising grain prices.
---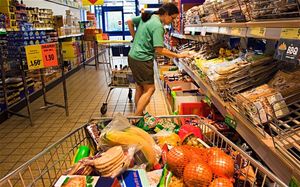 British families have been hit twice as hard by the rising cost of food as most of western Europe, a report has found.
The squeeze on household finances will continue for at least the next decade as experts warned prices would continue to increase at double the current rate of inflation.
Food prices in Britain have risen by 32 per cent since 2007, double the EU average, according to figures released by the Department for Environment, Food and Rural Affairs (DEFRA).
Economists expect the cost of the weekly shop to continue to rise by around 4 per cent a year until 2022 at least. The increase is almost twice the current rate of inflation of 2.5 per cent.
Rising prices will take the annual food bill for the average family to over £4,000 within a decade, up from £2,766 last year, heaping further pressure on already-stretched households.
---
Rudy Ruitenberg
Bloomberg
Fri, 05 Oct 2012 06:27 UTC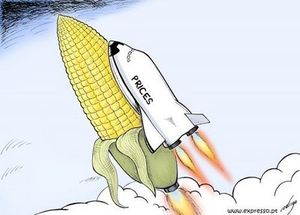 World food prices rose in September to the highest in six months as dairy and meat producers passed on higher feed costs to consumers, the United Nations' Food & Agriculture Organization said.
An index of 55 food items tracked by the FAO rose to 215.8 points from a restated 212.8 points in August, the Rome-based agency reported on its website today. Dairy costs jumped the most in more than two years.
Livestock breeders and dairy farmers are passing on the higher cost of feed, after grain prices jumped in June and July, according to Abdolreza Abbassian, an economist at the FAO in the Italian capital. Higher prices don't mean a food crisis is imminent, he said today by phone.
"Despite a very difficult market, the fundamentals that suggest a food crisis are just not there," Abbassian said. "Market sentiment is now accepting high prices more as a rule than as an exception."
---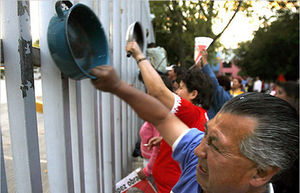 Prices driven higher by US drought along with production problems in Russia and other exporting countries
World food prices rose in September and are moving nearer to levels reached during the 2008 food crisis.
The United Nations food agency reported on Thursday that the worst drought in more than 50 years in the United States had sent corn and soybean prices to record highs over the summer, and, coupled with drought in Russia and other Black Sea exporting countries, raised fears of a renewed crisis.
The Food and Agriculture Organisation's (FAO) price index, which measures monthly price changes for a food basket of cereals, oilseeds, dairy, meat and sugar, rose 1.4% in September, mainly due to higher dairy and meat prices.
"It's highly unlikely we will see a normalisation of prices anytime soon,"
said FAO senior economist Abdolreza Abbassian.
---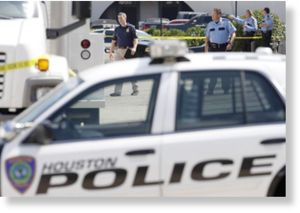 Radar, surveillance and weapons technology was reportedly sent through a business in a Houston strip mall.
Houston, Texas - Eleven alleged members of a clandestine procurement network have been indicted in connection with what prosecutors say was a $50-million conspiracy designed "to steal American technologies for the Russian government."
The grand jury indictment was unsealed Wednesday in federal court in Brooklyn, N.Y., but many of the defendants were arrested in Texas. One, Alexander Posobilov, appeared before a U.S. magistrate in Houston as prosecutors began seeking defendants' transfers to Brooklyn for trial.
Federal prosecutors said the ringleader is Alexander Fishenko, 46, the owner of U.S. and Russian companies. He immigrated to this country in 1994 and became a U.S. citizen nine years later. He is accused of acting as an unregistered agent "on behalf of the Russian government" to oversee shipments to Russia of radar and surveillance systems, weapons guidance systems and detonation triggers.
"These microelectronics had applications in a wide range of military systems, including radar and surveillance systems, weapons targeting systems and detonation triggers," the indictment says. Prosecutors say the equipment wound up with Russia's domestic intelligence agency, the Federal Security Service.
Much of the equipment is unavailable in Russia, and it is illegal to ship it out of this country. The crime can draw more than 20 years in prison.
---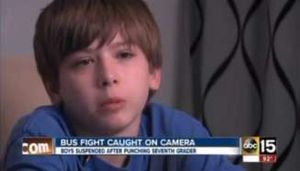 Seventh-grader Parker Brockman was recently beat up on a bus while returning home from Sunrise Middle School in Scottsdale, Arizona.
Instead of helping Brockman, other kids on the bus started recording the attack by two brothers, reports the
NY Daily News
.
Brockman told KNXV-TV that one of the brothers "was insulting me, cussing at me, saying 'hit me.' He was literally telling me to punch him the whole time. After a while I swung a few punches."
After goading him into a fight, the unidentified brothers started hitting him.
Brockman said: "They were basically on top of me trying to punch my face."
Finally
, the bus driver stopped the vehicle and broke up the fight.
---
Megan Chuchmach, Randy Kreider, Brian Ross and Lee Ferran
ABC News
Thu, 04 Oct 2012 00:00 UTC
Reacting to an ABC News investigation into theft by Transportation Security Administration officers, Senator Charles Schumer (D-New York) today called on the agency to do random sting operations on its employees "to test whether TSA agents are acting in a trustworthy manner to protect passenger property."
Schumer's request came in a letter to TSA head John Pistole and also proposed that the TSA randomly screen its employees at the end of the work day.
"Most TSA agents are very good, hard-working and conscientious, but there are a few bad apples that spoil the bunch," Schumer told ABC News today. "We have to find them."
Last week an ABC News investigation revealed that 381 TSA officers have been fired since the TSA was formed a decade ago for allegedly stealing from passengers. As part of the investigation, ABC News tracked an iPad that was purposefully left behind at an airport security checkpoint to the home of a TSA agent who was later fired for the alleged theft.
Another former TSA employee, Pythias Brown, served three years in prison for theft and said he stole approximately $800,000 worth of cash and merchandise from travelers before he was caught.
"It was very commonplace, very," Brown told ABC News. "It was very convenient to steal... [TSA agents] didn't think it was okay, but they did it and said, 'I don't care. They ain't paying me. They're treating me wrong.' But when people started seeing they could profit off of it, then it became massive."
---
A Connecticut court has set an accused rapist free, saying there wasn't sufficient evidence to prove that his severely disabled victim resisted the attack, reports say.
According to NBC, Richard Fourtin Jr. was found guilty in 2008 of
sexually assaulting a woman who has severe cerebral palsy
.
His victim, who was 26 at the time of the assault, reportedly cannot speak and has little body movement. The
Connecticut Post
notes the woman, known in court by her initials L.K., "
is so physically restricted that she is able to make motions only with her right index finger
."
She also is said to have the "
intellectual functional equivalent of a 3-year-old
," NBC Connecticut notes.
Fourtin, 28, was convicted of attempted sexual assault and sentenced to six years in prison.
However, in a 4-3 ruling on Tuesday, the state Supreme Court overturned the conviction, saying there isn't enough evidence to prove victim resisted Fourtin's advances.
---
Christina Ng
ABC News
Thu, 04 Oct 2012 00:00 UTC
A police union is coming to the defense of the Philadelphia cop who has been targeted for dismissal after he was
caught on video punching a woman
in the face.
It was originally announced that Lt. Jonathan Josey would be suspended for a month pending an Internal Affairs investigation. But less than two days later, Police Commissioner Charles Ramsey said he was taking "Commissioner's Direct Action" against Josey and that
the officer would be dismissed.
A video posted on YouTube shows Josey punching a woman in the face and
knocking her to the ground
before she is led off bloodied and handcuffed.
The Fraternal Order of Police in Philadelphia is angered with the decision and how quickly it was made.
"I think it stinks," John McNesby, president of the Fraternal Order of Police in Philadelphia, told
ABC News' Philadelphia station WPVI.
"It sends a bad message to the police out there on the streets."
The Fraternal Order of Police is a U.S. labor union made up of law enforcement officers.
---