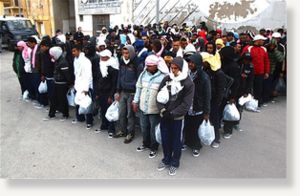 A state of emergency has been declared by the Italian government after 5,000 illegal immigrants fleeing riot-torn Tunisia arrived in just five days.
Coastguard officials said that in just one 12-hour period 977 had arrived, with many more boats seen on radar screens approaching from north Africa.
The vessels carrying the illegal immigrants had all arrived on the tiny volcanic island of Lampedusa, which is just 60 miles from the Tunisian coast and the lone accommodation center was struggling to cope.
Extra coastguard and navy patrols were dispatched to the waters between Lampedusa and Tunisia in an attempt to block the influx.
On Sunday, Tunisia sent security forces to coastal areas to stop the exodus.
Roberto Maroni, the interior minister, said the emergency had been declared
because they feared "possible terrorists" had infiltrated the illegal immigrants and would then slip into the country.