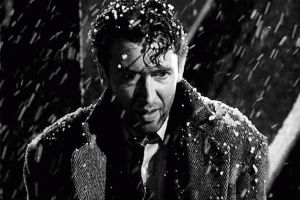 Underneath the warm fuzzies, Frank Capra's holiday classic is a tale of hunger, greed and a troubled America
I don't care what your parents told you.
It's a Wonderful Life
, that reassuring holiday spectacle, is really the most terrifying Hollywood film ever made. It's one of a handful of masterpieces directed by Frank Capra, an Italian immigrant who loved America because America saved him. Capra lived through the Depression, then through the rise of terrible ideologies. He knew how bad things could get. He knew, too, that the United States was not immune and this knowledge spiked his love with the worst kind of fear. The result was that special melancholy, blue shot through with black, that runs through his films, the best of which are parables that operate on various levels, some of which were probably unknown to Capra himself.
If you were to cut
It's a Wonderful Life
by 20 minutes, its true subject would be revealed: In this shortened version, George Bailey, played by a Jimmy Stewart forever on the edge of hysteria, after being betrayed by nearly everyone in his life, after being broken on the wheel of capitalism, flees to the outskirts of town, Bedford Falls, N.Y., where he leaps off a bridge with thoughts of suicide.
That's the movie: The good man driven insane.