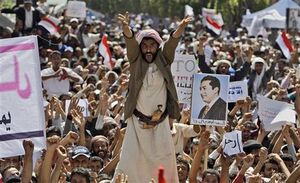 Sanaa, Yemen - Yemen's embattled president on Tuesday accused the U.S., his closest ally, of instigating the mounting protests against him, but the gambit failed to slow the momentum for his ouster.
Hundreds of thousands rallied in cities across Yemen against the government of President Ali Abdullah Saleh, in the largest of the protests of the past month, including one addressed by an influential firebrand cleric, a former ally of Saleh, whom the U.S. has linked to al-Qaida.
"Go on until you achieve your demands," Sheik Abdul-Majid al-Zindani told tens of thousands of demonstrators in the capital of Sanaa. A former U.S. ambassador to Yemen called al-Zindani's decision to turn against President Ali Abdullah Saleh a major setback for the president.
Some warned that the current political turmoil and possible collapse of Saleh's regime could give a further opening to Yemen's offshoot of the global terror network, al-Qaida in the Arabian Peninsula.
James Jones, former White House National Security Advisor, warned a Washington conference that Yemen's crisis "could deepen the current vacuum of power in Yemen on which al Qaida has thrived."
The Yemen-based al-Qaida in the Arabian Peninsula, believed to have been involved in the attempted 2009 bombing of an American airliner, is seen as particularly active and threatening to the U.S.