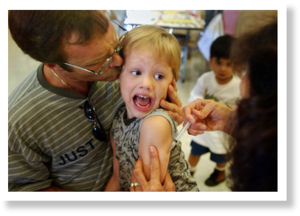 254 cases; disease leapfrogged from Europe
Montreal - Quebecers travelling to Europe this summer should make sure their immunizations are up to date, as France battles a measles epidemic, health officials warned Monday.
An outbreak of measles - a highly contagious respiratory disease that's jumped here from Europe - has affected 254 people in Quebec, and officials expect more as the virus spreads among people who have not been vaccinated.
Waves of the vaccine-preventable disease have been reported in the United States, England, Wales and France. The disease's rise is often cited as a legacy of a now-discredited study by a British autism guru who scared parents from immunization.
It's not known whether vaccine rates in Quebec are decreasing as the province does not keep a formal register. But increasingly, doctors are spending more time with parents answering questions about immunization fears, said Montreal pediatrician Richard Haber, director of the pediatric consultation centre of the Montreal Children's Hospital. Controversies over measles, mumps and rubella (MMR) vaccines have eroded public confidence in vaccination and threaten herd immunity, he said.