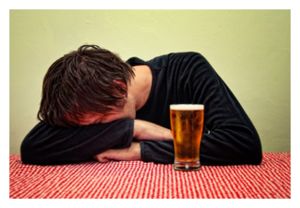 Researchers from the University of Miami and the University of Colorado find a connection between macroeconomic conditions and excessive alcohol drinking
Previous studies have found that health outcomes improve during an economic downturn. Job loss means less money available for potentially unhealthy behaviors such as excessive drinking, according to existing literature on employment and alcohol consumption. A new study by health economist Michael T. French from the University of Miami and his collaborators has concluded just the opposite - heavy drinking and alcohol abuse/dependence significantly increase as macroeconomic conditions deteriorate.
French and his team found that binge drinking increased with a rise in the state-level unemployment rate. Driving while intoxicated and alcohol abuse and dependence also increased for both genders and across ethnic groups. The study is relevant considering that many economists predict the unemployment rate in the United States to remain above pre-crisis levels for several years.
"The study is timely, technically advanced, and original," says French, professor of health economics, director of the Health Economics Research Group at the UM College of Arts and Sciences and principal investigator of this study. "We are one of the first to show that, even though incomes decline for most people during an economic downtown, they still increase problematic or risky drinking."