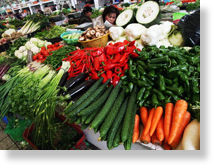 Food inflation will start hurting Asian economies by the end of the year if the current high prices are sustained over the next few months, with Vietnam, China and Hong Kong the most vulnerable, economists tell CNBC. Since mid-June, grains, namely corn, soybeans and wheat have rallied 38 percent, 24 percent and 45 percent, respectively, after the worst U.S. drought in a half a century wiped out crops in the world's biggest agricultural exporter. This prompted warnings from United Nations that the world could
see a repeat of the food scare
seen in 2008 as prices rose too rapidly, and officials from the Group of 20 countries to
plan a meeting
to discuss ways to cope with the price spikes.
While grain prices fell in New York on Tuesday because of rain across most of the Mid-West, prices will persist around current high levels, economists from Standard Chartered said in a report published this week. This is especially the case should
high temperatures persist
across much of the U.S. well into August, they said.