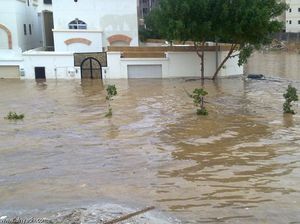 Saudi Arabia will punish officials for negligence after flooding due to heavy rains damaged infrastructure and displaced people in Jeddah, the official Saudi Press Agency reported, citing Prince Nayef, the kingdom's interior minister.
A committee was set up to investigate the response to last month's floods, which damaged 25,000 buildings, 2,500 shops and 90 percent of the city's roads, the Riyadh-based news service reported late yesterday. The government had to provide shelter for about 18,000 people, according to the news service.
At least 10 people were killed and 114 injured, Mohammed al-Qarni, General Major in the Civil Defense Department in Jeddah, said in an interview on Jan. 29.
Heavy rains raised water levels in Jeddah to 111 millimeters (4.4 inches) on Jan. 26, according to Mansour al- Mazroui, head of the meteorology department at King Abdulaziz University. That compares with a peak of 90 millimeters in November 2009 when flooding left at least 123 people dead in the city.