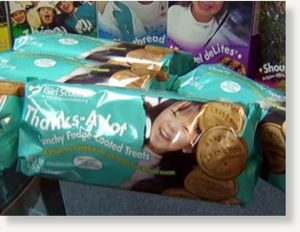 Woman snatched close to $100 from Palm Beach Girl Scouts
There's another cookie monster on the loose in West Palm Beach and she's behind the wheel of a car.
Two Girl Scout cookie sellers were targeted by a woman who drove up to their cookie stand and snatched their hard-earned dough, reports WPBF.com
The drive-by happened Sunday night at a shopping center in Palm Beach Gardens.
A woman in a maroon, four-door Honda pulled up to 7-year-old Vanessa Bergeron's cookie table and asked for a box of the treats. Her mother, Missy, was also at the table and walked up to the vehicle with a box in hand.