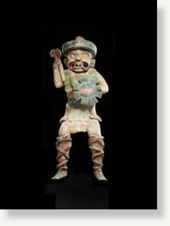 A sculpture of a Mayan warrior that sold for more than $4 million at a Paris auction house this week is a fake, Mexico's National Institute of Anthropology and History said on Tuesday.
The masked, stone figure, sold by a private collector, was billed as an impressive piece of Pre-Columbian art and was believed to be a unique work dating from around 550 to 950 A.D. It sold for 2.9 million euros ($4.1 million) on Monday.
But Mexican experts at the institute who studied the auction catalog said the piece, a warrior holding a shield and weapon and wearing a turban-like hat, had been made recently and was carefully carved to give an ancient appearance. Another 66 pieces in the auction also were fakes, they said.