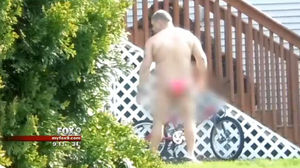 A Minnesota couple was charged with misdemeanor crimes this week after authorities removed a
15-year-old boy who'd been forced to live under constant video surveillance in a dark room, only being allowed to leave to participate in "military style" exercises allegedly forced upon him by his stepfather.
Neighbors reportedly noticed the odd behavior too: one even snapped a photo of Gregory Danner working in his back yard wearing nothing but a pink thong, and said they could often hear him shouting at his stepson.
The teen, who authorities did not name, reportedly has Asperger's syndrome, a type of autism that causes awkwardness and clumsiness.
Minnesota Fox affiliate KMSP-TV added
that his parents covered the windows, removed his light bulb and forced the teen to sleep on the floor.