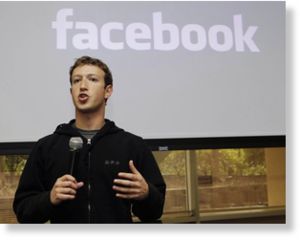 When Facebook makes its long-expected debut as a public company this spring, the social-networking company will likely vault into the ranks of the largest public companies in the world, alongside McDonald's, Amazon.com and Bank of America.
The Wall Street Journal
reported Friday that Facebook is preparing to file initial paperwork for an offering that could raise as much as $10 billion and value the company at $75 billion to $100 billion. The filing with the Securities and Exchange Commission could come as early as Wednesday, with an initial public offering of stock in three or four months.
The targeted amount would slot it among the world's 25 largest IPOs, although as recently as November 2010, General Motors raised $15.8 billion when it shed majority control by the U.S. government.
The IPOs of 14 companies would rank higher than Facebook's, according to investment adviser Renaissance Capital. Among them were Visa Inc.'s $17.9 billion IPO in March 2008, the largest for a U.S. company, and world-topper Agricultural Bank of China Ltd., which raised $19.3 billion in July 2010, not including extra shares issued to meet demand.