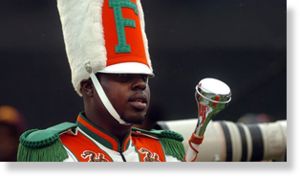 The parents of the Florida A&M University drum major who died after suspected hazing said on Monday they will file a lawsuit against the school to stop what they say is a violent initiation rite.
"This is not going to go away like other incidents," said the family's attorney, Christopher Chestnut. "The culture of hazing within the FAMU band has got to be eradicated."
Robert Champion, 26, died November 19 after being rushed to a hospital following a performance by the internationally renowned FAMU Marching "100" band at the annual Florida Classic football game against Bethune-Cookman University in Orlando.
Champion, a music major from Atlanta who served as one of six drum majors for the 375-member Marching "100" band, vomited and complained that he could not breathe in a band bus in the parking lot of a hotel after the game.
The medical examiner's office said a cause of death will not be known for about 10 weeks, but local law enforcement officials suspect that Champion died following a hazing incident aboard the bus.