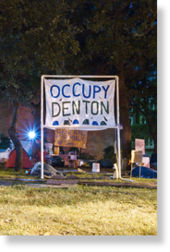 An official at the University of North Texas says a man has been found dead at a campsite on the school's campus where Occupy Denton protesters have been gathering.
The Dallas Morning News
reports that university spokesman Buddy Price says officers from the school's police department found the man's body Saturday after someone called authorities. Price says no one else was at the encampment when police arrived.
He told the newspaper the man is believed to have been a member of the Occupy Denton encampment.
The man's name and age have not been released. An autopsy is pending.
University police referred calls to Price on Saturday night. Price did not immediately return a phone call to The Associated Press.
Denton is about 40 miles northwest of Dallas.
Source: The Dallas Morning News