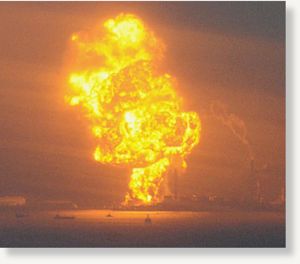 US nuclear experts warned Saturday that pumping sea water to cool a quake-hit Japanese nuclear reactor was an "act of desperation" that may foreshadow a Chernobyl-like disaster.
Several experts, in a conference call with reporters, also predicted that regardless of the outcome at the Fukushima No. 1 atomic plant crisis, the accident will seriously damage the nuclear power renaissance.
"The situation has become desperate enough that they apparently don't have the capability to deliver fresh water or plain water to cool the reactor and stabilize it, and now, in an act of desperation, are having to resort to diverting and using sea water," said Robert Alvarez, who works on nuclear disarmament at the Institute for Policy Studies.
"I would describe this measure as a 'Hail Mary' pass," added Alvarez, using American football slang for a final effort to win the game
as time expires.
An 8.9 magnitude earthquake that struck Japan on Friday set off the emergency at the plant, which was then hit by an explosion Saturday that prompted an evacuation of the surrounding area.
Workers doused the stricken reactor with sea water to try to avert catastrophe, after the quake knocked out power to the cooling system.
What occurred at the plant was a "station blackout," which is the loss of offsite air-conditioning power combined with the failure of onsite power, in this case diesel generators.