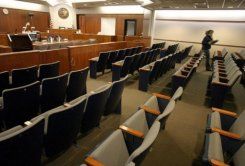 The US Supreme Court ruled that
states did not have an automatic duty to provide counsel in civil courts
in the case of a divorced father who was jailed for failing to pay child support.
By a majority 5-4 vote, the justices found that while the South Carolina father's rights had been violated because he was not given free counsel, US states did not have to provide such advice in all civil contempt cases.
The case was being highly watched and had become emblematic of what civil rights groups have called a trend towards "debtors' prisons" in America.
In the case before the Supreme Court, Michael Turner had been ordered to pay $51.73 a week in child support. But he had regularly fallen behind, and spent short spells in prison.
On his fifth infraction, the South Carolina family court sentenced him to six months in jail. But on his release he was $5,728 in arrears, and was then sentenced to 12 months in jail.
Turner appealed arguing his constitutional rights had been violated as he had not been given access to free counsel -- as is normal in criminal cases -- to argue that he had been unable to pay the funds due during his jail term.
In Monday's majority decision, the court ruled that a constitutional amendment "does not automatically require the State to provide counsel at civil contempt proceedings to an indigent noncustodial parent who is subject to a child support order, even if that individual faces incarceration."
It found that such a requirement could put the other parent at a disadvantage if they could not afford a lawyer creating "an asymmetry of representation that would alter significantly the nature of the proceeding."
Instead, recognizing that ability to pay is key in many child support cases, it called on the government to ensure safeguards were put in place, to significantly reduce the risk of an erroneous deprivation of liberty."
The ruling triggered a sharp response from the Constitution Project, a bipartisan group working for reform of the justice system.
The ruling "undermines the fundamental fairness of our justice system, putting Americans in danger of losing their liberty simply because they cannot afford a lawyer," it said in a statement.
"Michael Turner was incarcerated for one year because of his failure to pay court-ordered child support. Although his inability to pay would have constituted a legal defense to incarceration, Mr. Turner was unable to prove his inability to pay to the court.
"With this decision, the Supreme Court has effectively endorsed the expansion of the unjust use of debtors' prisons in America," it added.