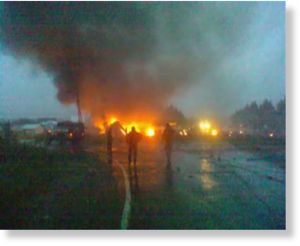 Forty-four people died and a handful of survivors were fighting for their lives after an overnight airliner crash in north-western Russia, the Civil Defence Ministry reported Tuesday.
The Russair charter flight from Moscow crashed about midnight (2000 GMT Monday) as it approached its destination, Petrozavodsk, 400 kilometres north-east of St Petersburg in Russia's Republic of Karelia, which borders Finland.
The Tupolev Tu-134, with 43 passengers and a crew of nine, made a hard landing on a highway about a kilometre from the airport at Petrozavodsk, the capital of Karelia, according to news reports.
A possible failure of communications between the air crew and ground controllers and thick fog could have been contributing factors, airline officials told the Interfax news agency.
Russian Transportation Minister Igor Levitin was in Petrozavodsk and government inspectors were conducting a review of Russair safety procedures, according to news reports.
'Seven people are in extremely critical condition,' said Irina Andrianova, a Russia Emergency Situations Ministry spokeswoman. 'All the survivors suffered injuries and burns.'
Four of the survivors were scheduled to be flown to Moscow for treatment.
Medics declared three survivors - one a boy, aged 9 - too badly inured to move. A team of doctors was treating them in Petrozavodsk hospitals, officials said.
'The condition of the boy is extremely severe, he has lost a great deal of blood,' said Tatiana Golikova, a Ministry of Health spokeswoman.
Officials were not providing information about the eighth survivor, who was not listed among the severely injured.
One Swedish man, one Netherlands national and four US nationals were reported among the dead. Russian authorities said eight children were on board, of whom seven were killed in the crash.
At least three of the dead were senior managers of the Russian state-owned company Gidropress, a Moscow-headquartered firm specializing in the design and construction of nuclear reactors, officials at the Russian national atomic energy Rosatom said.
Two other Russian top atomic energy engineers who had been working on Gidropress projects also are believed to have died in the crash. Gidropress-designed reactors operate across the former Soviet Union, as well as in India, Bulgaria and Iran.