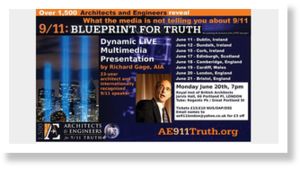 Institute reviews policy after controversial event booked by Zaha Hadid Architects associate
The RIBA is reviewing its policy on hiring out 66 Portland Place following a storm of criticism over its hosting of a group claiming that New York's Twin Towers were brought down through a controlled explosion.
Leading architects on both sides of the Atlantic hit out at the institute this week after American architect Richard Gage, part of the group Architects & Engineers for 9/11 Truth, delivered a lecture at RIBA HQ on Monday night.
The venue was booked by fellow American and RIBA member Craig Phillip Kiner, an associate at Zaha Hadid Architects.
Gage claims that the fires caused by the impact of the two jets flown into the World Trade Centre on September 11, 2001, could not have been sufficient to make the steel structure of the towers collapse, and he questions the collapse of World Trade Centre 7, a nearby 47-storey building which was not hit by an aircraft.