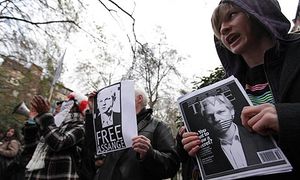 WikiLeaks supporters declare arrests as 'declaration of war', as the FBI issues 40 search warrants in the US
The five people arrested in the UK
in connection with
a spate of online attacks in support of WikiLeaks were today released on police bail, while in the US the FBI has issued search warrants as part of its investigation into online group Anonymous.
The FBI yesterday issued more than 40 search warrants across the US as part of its Anonymous probe, where the distributed denial of services (DDoS) attacks the group carried out on the websites of companies including MasterCard and Visa are punishable by up to 10 years in prison.
Last night Anonymous issued a statement branding the UK arrests "a serious declaration of war" against the group of internet "hacktivists".
Yesterday's arrests are the first in the Metropolitan police's central e-crime unit investigation in the UK.
Three teenagers, aged 15, 16 and 19, were held along with two others in a series of raids in the West Midlands, Northamptonshire, Hertfordshire, Surrey and London early yesterday. The teenagers have to return to their local police station on 13 April and the two men the following day.